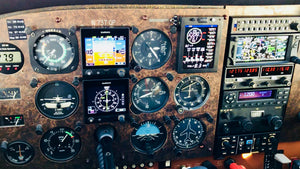 Glass/WAAS GPS/COM/NAV/ADS-B Upgrade Installed
Garmin International
Call or email to schedule installation!
What's included:
Aircraft must be on Garmin G5 Approved Model List STC, Garmin GTN650Xi Approved Model List STC and GTX345 Approved Model List STC. Pitot/Static/Transponder/Altitude Reporting checks, compass swing, all applicable paperwork and test flight will be performed. Customer must be PIC for test flight. All equipment, parts, and hardware are brand new with full factory warranties.
Garmin G5 ATT Certified w/LPM
Garmin G5 HSI Certified w/LPM
Carlisle CAN24TST120 CAN Bus Wire
Garmin GAD29B A429 Adapter
Garmin GMU11 Magnetometer
Garmin GTN650Xi WAAS/GPS/COM/NAV/GS
Garmin GA35 WAAS/GPS Antenna
Garmin Nav Signal Splitter
Garmin GTX345 ADS-B I/O Transponder
Miscellaneous Parts and Hardware
Alteration Labor, paperwork, etc.
---------------------------------------------------------------------
Total $33,995.00
What's NOT included:
Aircraft must be 6000 lbs or less gross take-off weight, seat no more than six passengers and NOT be approved for known icing for G5 to be installed. If the aircraft does not have an audio panel or the existing audio panel is not listed on the GTN650Xi or GTX345 Approved Equipment List, a Garmin GMA345 Audio Panel/ Marker Beacon/Intercom/BT can be installed for $4,495.00 four place intercom. Six place intercom add $795.00. Any repair or alignment of existing equipment necessary to adequately perform the above alteration is not included. Pressurized aircraft may require a DER installation of WAAS/GPS Antenna and ADS-B Antenna, which is not included. Pressurized and/or Composite aircraft require additional parts and labor. Piper PA24 and PA28 add $500.00 to price for difficult magnetometer wire routing. Only existing equipment which is listed in the current GTN650Xi and GTX345 STC Installation manuals will be interfaced with the GTN650Xi and GTX345. Add GA13/GTP59 OAT to G5's for TAS and Winds Aloft for $995.00 installed. Add a Garmin GFC500 Autopilot for an additional $16,495.00 installed (Piper PA28 with Battery mounted behind baggage compartment only, other aircraft will cost extra). Add a FlightStream 510 for $1,349.00 installed. The Garmin GTN750Xi can be substituted in place of the GTN650 for an additional $6,000.00. Add an ACK E04 ELT 406Mhz interfaced with the GTN GPS for $1,495.00 installed.
If equipment prices are changed by the manufacturer, they will be adjusted accordingly. Each particular aircraft may require additional labor, repairs, alterations, or parts not included in the above. Payment is to be made by check or wire transfer. Payment by credit card, debit card, or Paypal adds a 3% processing fee. A $1,000.00 deposit is required to retain a time slot. Equipment is to be paid in full before the installation begins. The balance will be due upon completion before delivery. Please email Josh Wright at josh@avionics-laf.com or call (765) 743-3828 with any questions or to set up an appointment.