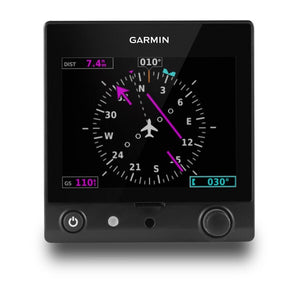 Garmin G5 HSI with GAD29B or GAD29D and GMU11 w/LPM
Garmin International
No Stock. Usually ships within 1 to 2 weeks.
Regular price $3,615.00
Add to cart for lowest price.
No legacy Nav/Coms will interface with G5's. Only ARINC429 capable Nav/Com's and GPS's like the GNC255A, GPS175, GTN's, GNS's, IFD's, etc. will work. The GAD29B or GAD29D is required for Course Deviation and Glide Slope Indication. The GAD29D replaced the GAD29B because of a parts shortage. They are again making the GAD29B. They have the same functionality, warranty, TSO, physical and electrical characteristics, pin compatibility, etc. You will receive one or the other, whichever Garmin ships. Unable to request one or the other.
Comes with LPM. (Lightning Protection Module)
The STC Registration Card, which comes in a black envelope with the G5, will unlock a Garmin STC Permission Letter, Installation Manual and the rest of the STC documentation including aircraft flight manual supplement.
Glass Upgrade for DG/HSI in GA Aircraft
Replaces traditional electromechanical instruments; configured in DG/HSI positions
Bright, sunlight-readable 3.5" LCD color display, sized to fit standard 3-1/8" instrument cutout
Certified via approved model list (AML) for STC'd installation on more than 560 aircraft makes and models
Includes a 4-hour backup battery with battery status indicator
The G5 electronic flight instrument delivers exceptional performance, reliability and ease of installation as a drop-in replacement for directional gyros in type-certificated fixed-wing aircraft. Providing an economical upgrade path via a comprehensive approved model list (AML), the compact and cost-effective G5 is bringing modern "glass cockpit" reference to thousands of aircraft that would otherwise depend on older, vacuum-driven equipment.
Affordable Glass Solution
Designed for installation in FAR Part 23 Class 1 and Class 2 aircraft (singles and twins weighing less than 6,000 lbs), the 3.5" G5 display fits into a standard 3-1/8" round cutout, taking up just a fraction of the space and weight previously required by conventional gyro-based instruments. It's valid for flight under VFR and IFR conditions. And, by combining visual cues and data readouts once scattered across a myriad of instruments, G5 makes flight information easier to scan — so pilots can respond more quickly and intuitively to any inflight situation.
Gain A Clearer Sense of Direction
To provide even more situational awareness, G5 is approved for installation as a replacement heading indicator/directional gyro (HI or DG) or horizontal situation indicator (HSI) in your panel. When paired with an affordable GMU 11 magnetometer, GAD™ 29 navigation data interface and select VHF Nav/Comms or GPS navigators, G5 can serve as your primary reference source for magnetic heading, VOR/LOC guidance and/or GPS course guidance — as well as providing distance and groundspeed indications. The unit displays both vertical and lateral GPS/VOR/LOC course deviation when available. And you can use the G5 instrument's rotary knob to easily make and adjust course selections — or to control heading bug settings in DG installations. For added system integration, a single magnetometer can supply heading information to 2 G5 units simultaneously. Additionally, G5 can provide heading output to select third-party autopilots (with GAD 29B or GAD29D).
Learn More About G5
With supplemental type certification (STC) provided under an AML covering hundreds of certificated GA aircraft models, a G5 upgrade for your cockpit offers maximum capability and value for minimal downtime, paperwork and expense. You can select from an array of approved installation configurations incorporating single or dual G5 displays. And no matter which installation you choose, you'll be flying with the peace of mind that comes with our industry-leading Garmin warranty backed by our No. 1-ranked product support team. See your authorized Garmin installation center for more details on the G5 glass upgrade for your aircraft.