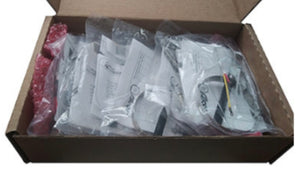 Garmin EIS 4-Cylinder Sensor Kit CHT/EGT, FF, Oil P., Oil T., MP. - Fuel Pump for GI275, G3X Certified and TXi
Garmin International
No Stock. Usually ships within 1 to 2 weeks.
Regular price $1,675.00
Add to cart for lowest price.
P/N:K00-01301-10
Kit, 4 Cyl. - CHT/EGT, FF, Oil P., Oil T., MP. - Fuel Pump, GPT

Garmin 4-Cylinder Engine Sensor Kit for GI 275, G3X Certified and TXi.
Works with Lycoming and Continental.
Contains:

011-05783-00
Sub-Assy, Manifold Pressure Sensor, GPT 30A, QTY 1

011-05783-30
Sub-Assy, Oil Pressure Sensor, GPT 150G, QTY 1

494-10001-00
Fuel Flow Transducer, QTY 1

494-70001-00
TYPE K THERMOCOUPLE, CLAMP, EGT, QTY 4

494-70008-00
Type K thermocouple, Bayonet, CHT, Alcor 86252, QTY 4

494-70008-01
Type K thermocouple, Adapter, Bayonet, CHT, Alcor 28202, QTY 4

494-70009-00
Oil Temperature Sensor, UMA Inc, T3B3-2.5, QTY 1