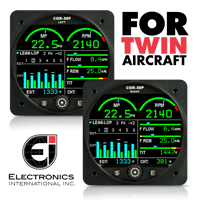 Electronics International CGR-30P Premium 4-Cylinder Twin Package
Electronics International
No Stock. Usually ships within 3 to 4 weeks.
Regular price $8,998.00 $7,998.00 Sale
WHAT YOU NEED TO KNOW
STC'd & TSO'd
Flush Mount
Over Twenty Functions
NOW SHIPPING
3 1/8 flush mount
Sunlight viewable color display
Four screens
Advanced Bar Graph
Fuel management
RPM
EGT
CHT
Fuel Flow
Fuel Remaining
Fuel Used
Volts
OAT
Tach Time
Local Time
Zulu Time
Flight Time
Engine Time
Electronics International requires you to fill out the worksheet on their website to order.
CGR-30P Overview
Replace your Tachometer with EI's CGR-30P, and bring glass panel technology to your panel today, without breaking the bank.  The CGR-30P is a TSO'd, STC'd Primary Replacement engine instrument.  What can it replace?  The answer: most of the aircraft's primary engine functions.
The beauty of the CGR-30P is that YOU get to choose many of the functions the CGR-30P replaces.  Designed as a Cluster Gauge Replacement (CGR), the CGR will replace your Tachometer, Manifold Pressure, Fuel Flow Totalizer, EGT/CHT Bar Graph Analyzer, and more!
The CGR is divided into three separate screens.  The three screens are the Main Screen, Secondary Screen, and the Fuel Management Screen.