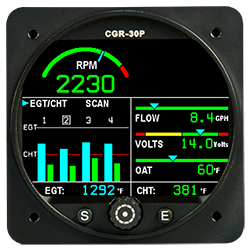 Electronics International CGR-30P Basic 4-Cylinder Package
Electronics International
No Stock. Usually ships within 3 to 4 weeks.
Regular price $3,798.00 $3,398.00 Sale
WHAT YOU NEED TO KNOW
STC'd & TSO'd
Flush Mount
Over Twenty Functions
NOW SHIPPING
3 1/8 flush mount
Sunlight viewable color display
Four screens
Advanced Bar Graph
Fuel management
Up to 4 primary functions
Up to 5 non primary functions
Electronics International requires you to fill out the worksheet on their website to order.
CGR-30P Overview
Replace your Tachometer with EI's CGR-30P, and bring glass panel technology to your panel today, without breaking the bank.  The CGR-30P is a TSO'd, STC'd Primary Replacement engine instrument.  What can it replace?  The answer: most of the aircraft's primary engine functions.
The beauty of the CGR-30P is that YOU get to choose many of the functions the CGR-30P replaces.  Designed as a Cluster Gauge Replacement (CGR), the CGR will replace your Tachometer, Manifold Pressure, Fuel Flow Totalizer, EGT/CHT Bar Graph Analyzer, and more!
The CGR is divided into three separate screens.  The three screens are the Main Screen, Secondary Screen, and the Fuel Management Screen.