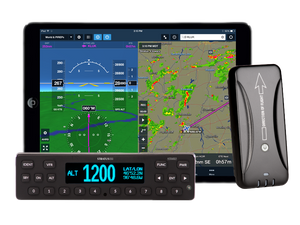 Appareo STRATUS ESi Certified Transponder with ADS-B In/Out and Factory Wiring Harness *A&P Bundle*
Appareo
Dropship Item. Usually ships within 2 business days.
Regular price $3,539.00 Sale
Stratus ES was built without GPS in order to provide affordable ADS-B Out to aircraft owners who have already invested in WAAS GPS. Comes with mounting tray and connector kit. Stratus ES will make an aircraft rule-compliant when paired with any of the following navigators:
Garmin 430W, 530W, 6XX, 7XX
Avidyne IFD440, IFD540
Includes Factory Wiring Harness and Stratus 3i, an ADS-B In receiver that was designed to stay plugged into the transponder (tucked behind the panel).
*iPad NOT included.