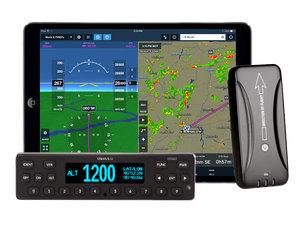 Appareo STRATUS ESGi Certified Transponder with WAAS GPS, ADS-B In/Out and Factory Wiring Harness *A&P Bundle*
Appareo
Dropship Item. Usually ships within 2 business days.
Regular price $3,595.00 Sale
Stratus ESG was designed with non-glass panel aircraft in mind. Our simplified solution includes a 1090 ES transponder and certified WAAS GPS in the same box. It's truly an all-in-one box solution for 2020 compliance.
WAAS/GPS Antenna
Mounting Tray/Connector Kit
Factory Wiring Harness
Stratus 3i, an ADS-B In receiver that was designed to stay plugged into the transponder (tucked behind the panel).
*iPad NOT included.